Speedlite 580EX: E-TTL II/ AF assist problem? Need Canon users help!
If there are any Canon users out there who use a 580EX, I have a problem which needs serious attention. My problem is illustrated in the picture taken below: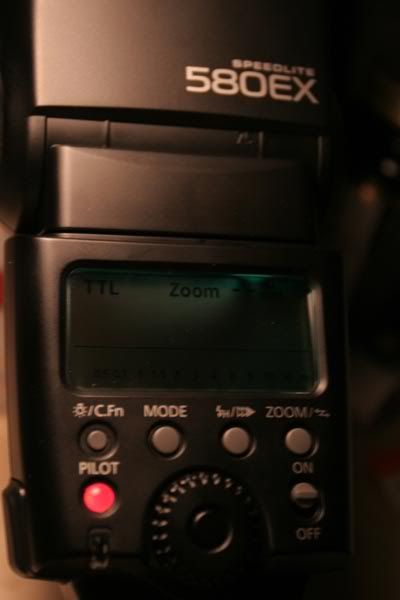 TTL mode? I should be seeing E-TTL, not TTL dammit!!
So yes, that's the problem. E-TTL is somehow missing from my copy of the 580EX. Pressing the mode button (as the instruction manual says) cycles between TTL, M and Multi modes. No E-TTL was seen, and my 430EX failed to trigger when I tried to slave the 580EX and 430EX together. I also checked the custom functions to ensure that the E-TTL capability was switched on. Incidentally my 430EX has no problems with E-TTL.

Also, the auto assist AF beam does not appear to be working! Gahhh!

Is there something I have done wrong? Or have I somehow gotten a bad copy? Please advice if anyone can help me! :(