5 million cheap tickets won't prevent me from saying goodbye to MAS
Just a day after Malaysia Airlines announced the 5 million cheap seats (which if you ask me, is a good marketing strategy against AirAsia/ FAX disguised as a Visit Malaysia Year 2007 excuse), I received a certain mail.

It opens to reveal: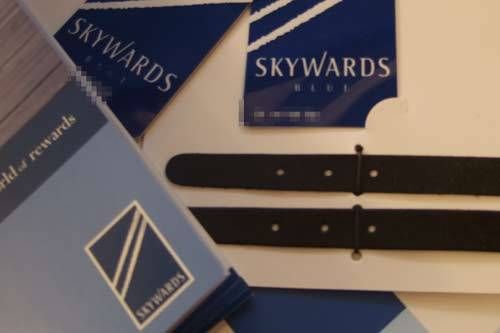 My flying reward card, and accompanying luggage tags. No, not with Malaysia Airlines. Malaysia Airlines never sent me mine since I asked for it a good couple of years ago, nor did they bother to attend to my complaints. This belongs to Emirates.

Yes, I have decided to ditch Malaysia Airlines. This despite actually liking the flight schedule; I could get a solid 8 hour sleep while on the night flight departing London, arriving in the afternoon in KL with no jet lag whatsoever. Same with the flight back.

Why, then? I basically wanted a change, and the cheaper tickets helped.
1) One could easily save a couple hundred pounds flying Emirates as compared with Malaysia Airlines. Couple hundred pounds = a trip down to Armani / a massive boost to the camera fund bank savings.

2) The ability to take a few days break at Dubai is immensely appealing, and as future posts will show, I did take full advantage of that facility. And the ability to purchase Middle Eastern and duty free goods!

3) Newer planes! Boeing 777s versus ageing 747-400s. More comfortable seats (the bottom of the seats actually move forward as you recline for a more natural posture), and a fantastic range of entertainment (oh dear, that's exactly the opposite of the idea of sleeping the distance, but yeah, some of the biggest movie hits, on demand!). So what if Malaysia Airlines is going to buy some Airbus A380s? Emirates is buying more!

4) Online check in from 12 hours before the actual flight. Want that coveted window seat? Or perhaps you fancy the seat near to the emergency exits? Its possible (subject to availability, of course)! And the check in line at the airports are so much shorter if you had completed the on line check in.

5) Better food than Malaysia Airlines, believe it or not. And we actually get menus (Malaysia Airlines stopped giving out menus a few years ago)!

6) The my-reward-card-never-showed-up reason. Enough said, I don't even want to think about it.

7) Bla bla bla....
p.s. Although to be fair, my first flight on Emirates on the LHR <-> KUL in a few years (I did it once a long, long time ago) was not without incident. Those of you who know me will recall that I fell sick a couple of days before the flight as well as the most miserable of coughs that kept me awake for the vast majority of the journey back to KL. Needless to say, this coupled with the resultant lack of sleep, resulted in a couple of incidents. You know who you are; you were busy so I didn't want to reschedule and inconvinience you. I'm sorry.