Weekly shopping
Or sort of. I don't have any real fixed shopping schedule. But since I'm dying to have a break from work, and couldn't be bothered to think too much, here's a post of what I bought from the food stores:
Running out of food earlier, I decided to pop down to the local high street, a good 15 - 20 minutes walk. We have basically a choice of three major supermarket chains within a couple of minutes walk from each other - M&S, Waitrose, and Sainsbury's. Somerfields is also 20 minutes away - in the opposite direction. No guesses as to where I'd go.
I usually split my shopping between all three places, depending on the food I'd buy, and how generous my wallet might feel. M&S has great oven food, as does Waitrose. But Sainsbury's would have the cheapest fresh foods (in general, amongst these three). Bla bla bla. I have never shopped at either Tesco or Asda, basically because there is non of them in the area (the small tiny Tesco kiosks in petrol stations does NOT count). Soon though, I will have access to Tesco, Asda and continued access to Waitrose.
So, I decided to pop into M&S. And I found everything that I wanted there.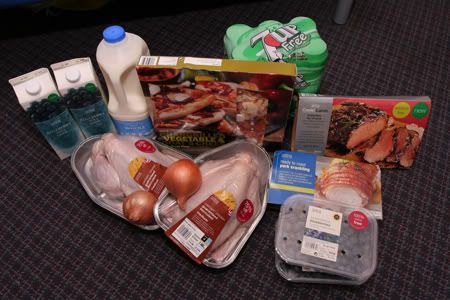 Well, everything except for the 7-up and onions, which came from Sainsbury's.
Here's a closer look at the stuff:
2 pints of milk at left. A grilled vegetable and goat's cheese pizza (£4). Roasted peppers and goat's cheese are two of my favourite foods, and to find them together, bliss! At right, a pack of butterflied leg of lamb, with fresh rosemary and thyme glaze and some other stuff. The lamb was the most expensive item at £8 (or was it £9?). The cans of 7-up peer at us from behind the pizza. At buy 1 get 1 free, why not?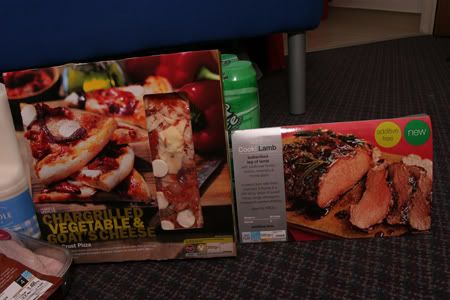 One of the two chickens that I bought, as well as ready-to-roast pork crackling and the onions.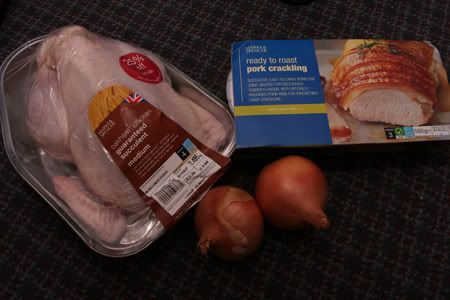 Two packs of Polish blueberries (pun NOT intended), flanked by two TetraPaks of blueberry goodness. As you could probably tell, I like blueberries. So much so that I had some fun with my camera and the blueberries.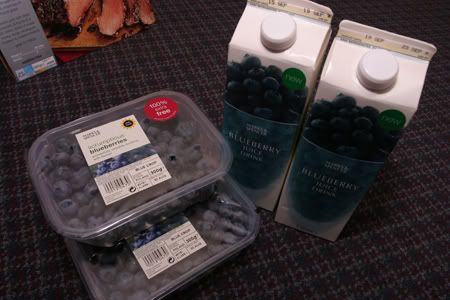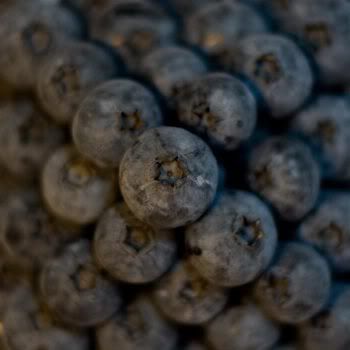 I love M&S. They know what type of food I want ;) Shame its a tad expensive, so I don't go there too often.