Chessington World of Adventures
Part of the Tussaud group, Chessington World of Adventures (CWA from now) is located at Chessington South, Surrey. It is targeted at families with young children, as opposed to the adrenaline thumping Thorpe Park, or the all-rounded Alton Towers. CWA can be reached easily by catching the South West train, which runs from Waterloo and ends at Chessington South
Wanting to be punctual and trying to undercut the impossible-to-predict frequency of Underground trains, I promptly arrived at the interchange a spanking 40 minutes ahead of the South West train, so I popped over to a friend's place near the interchange to kill time, then we boarded the appropriate train.
From Chessington South's train station it is another 15 - 20 minutes walk to reach CWA. Here we collected the advance tickets (a pack of 10 which breaks down to £12.15 or something like that per person; original price £29 each). Still we had too many tickets so we acted like ticket touts (avoiding the staff of course) and managed to sell them off in a few minutes ;)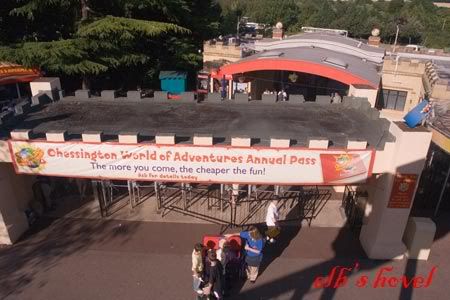 Aerial view of the rear of the main entrance.
The ultimate aim was to have fun and to conquer all the roller coasters, being the roller coaster junkie I am. First of all was Dragon's Fury. It is a spinning roller coaster, whereby one-car carts which can sit four people at a time actually rotate during the ride. One very interesting feature is that the track is able to accommodate 90 degree banks. Oooh!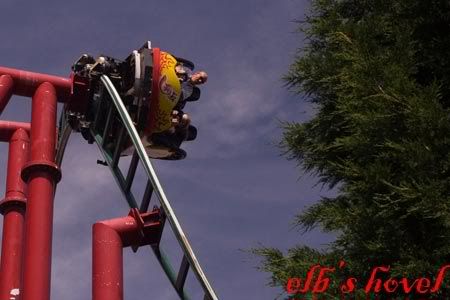 The car going about its business on the track ;)
How was the rollercoaster? The spinning cars certainly add a new dimension to the whole ride, and the 90 degree to the vertical bank combined with the spinning car was definitely awesome ;)
Verdict: 5/ 10.
Next up was a suspender roller coaster, called the Vampire. You know, with your feet all dangling in the air from the seats. It was generally a pleasant ride with a couple of interesting and unexpected turns which were positively felt by the body.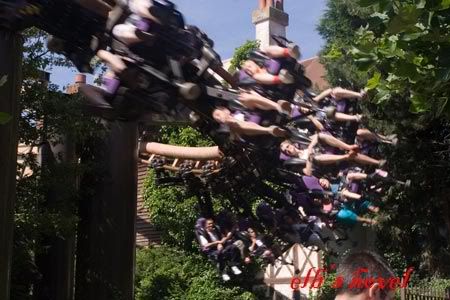 Slow shutter speed gives a sense of movement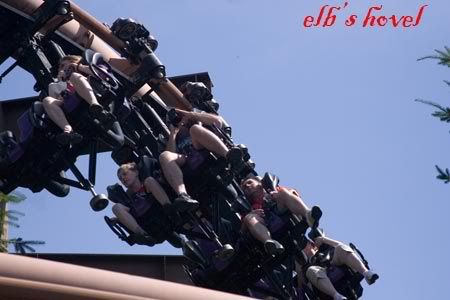 Look closely at what they brought on board - a camera and a video camera! I want to bring my dSLR too, damnit!
Vampire rating: 5/10.
Then it was on to a thrill ride, the Black Buccaneer. I never liked the ride because it always makes me naseous. As usual, we went right to the back and the feeling of having your stomach being pushed against the diaphragm is utterly unpleasant
Few theme parks do not have this ride.
Rating: 3/10.
And to cool off a little, we sat on the flume ride. But you've seen log rides anyway, so I'll spare you the agony of looking at one. So here's a different picture instead: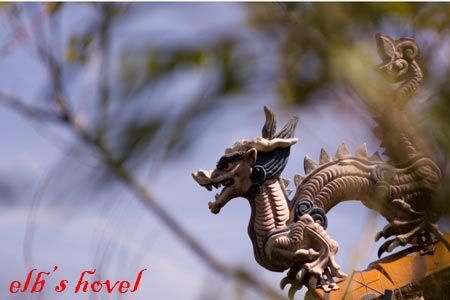 Then it was time to ride on the Runaway Train. If you've never ridden on a roller coaster before, this is it to give you an induction into what you're missing. If you're ridden on a roller coaster before, stay away. The ride reminded me of one of the roller coasters in Sunway Lagoon. Buffalo Bill Coaster, it was called. Stay away from either of them.
Verdict: 1 / 10
And then it was time to explore the Wild Mouse-type roller coaster, called Rattlesnake. It was definitely a world above the Runaway Train. The problem with this type of coaster is that it makes sudden, sharp turns, and can be painful to your body as you and your friend are thrown around inside the car. A nice way to err, accidentally hit into the lady you always fancied ;)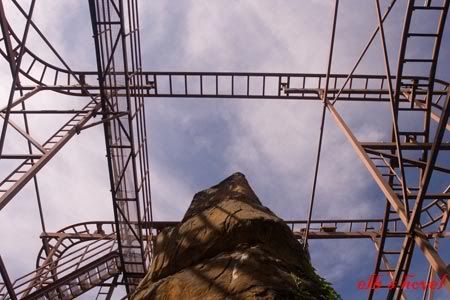 A view of the ride
Another from a different angle.
How was it? 4 /10.
So that was all the rollercoasters done. A bit disappointing, really. But I did not expect much considering that I was not the target audience of the park. What I need now is to find enough adrenaline junkie friends to conquer Thorpe Park with together ;)
We also checked out Beanotown. Nostalgia indeed, although I fancied the Dandy more than the Beano.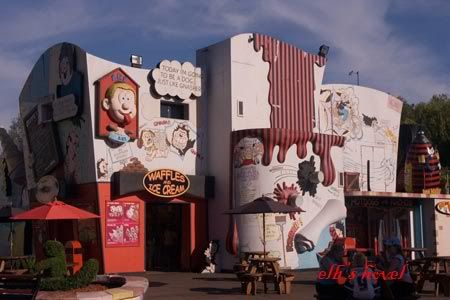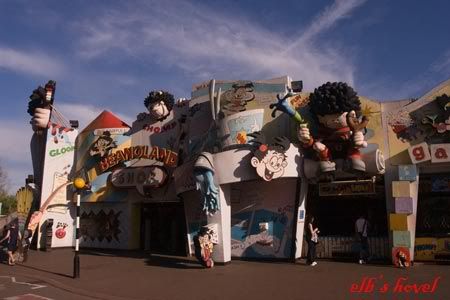 We went on a couple of other rides, bla bla.
I wanted to win one of these Tatty Teddy lookalike bears for no apparent reason. £2 for 4 balls. Naturally, these games were rigged and none of the balls went in. Cheats.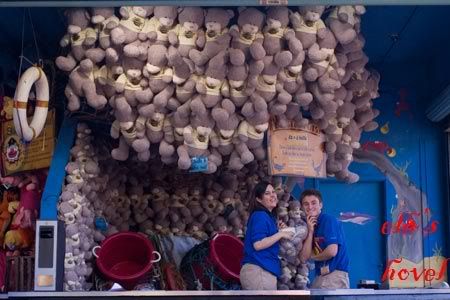 Then it was time to go home because we were all so knackered and the park was closing as well. Shame we couldn't see the zoo section of CWA.
For an awesome day out with good company, around £30 (£12.15 entrance, £5 day travelcard [or something like that; Oyster cards do not work on the route], £4 for some pathetic Mexican fast food, and a few other pounds for drinks and all that) wasn't too bad!