Kopitiam London Review
I previously mentioned Kopitiam briefly in my
brief overview of some of the Malaysian eateries one could find in London
.
Now that I have visited a couple of times more, I feel that I can at last make some in detail comments about that place.
First off, how does one get there. Walk to the very middle of Chinatown's main street (Marked with a red X). Walk north along Dean St and you will soon see Kopitiam on the right (black X).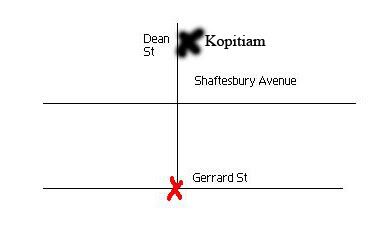 You can recognize Kopitiam by the pitiful Malaysian flag hanging outside. Its so pitiful that it should really be taken down. By the way, Kopitiam serves not only Malaysian food, but also Thai food.
Anyway,
YingCi
insisted that I take her to Kopitiam - this in spite of the fact that she was flying back to Malaysia three days later.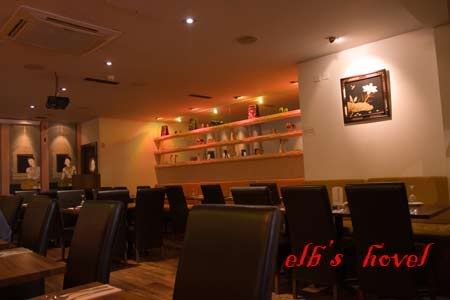 The interior of kopitiam
When we were there, there was a table full of Ah Lians - it seems you can never run away from them. Sigh.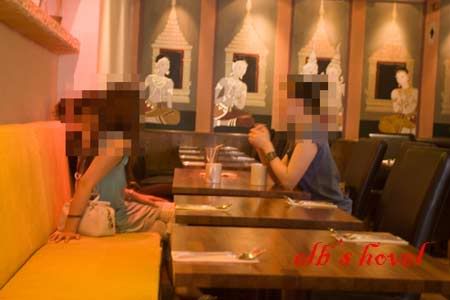 The AhLians. At least they weren't dressed up in black.
So I ordered Char Kway Teow; YC had mee laksa (or was it curry noodles? my memory's bad again), and the mysterious gatecrasher had beef rendang.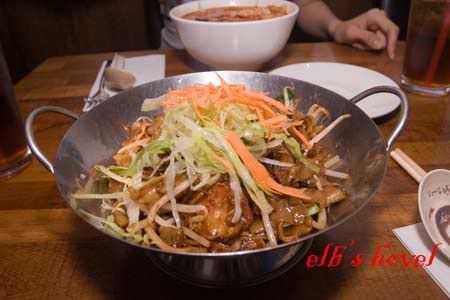 My CKT and YC's mee laksa. (both around £7 each)
The CKT, as you can see, came with lots of fresh vegetables. A nice change from the usually oily dish, and as usual, came with no blood cockles. But it was still good and reminded me a bit of the CKT served at the mamak stall Spicy Kitchen. The curry used for the noodles was excellent though. And oh, you can see YC's lo han guo (£1.80) drink, which tasted more sugary than anything else. By the way, the soya milk here is authentic (£1.80), and not the Yeo's crap. My only complaint is that it is a tad bit too sweet.
We also ordered grilled fish.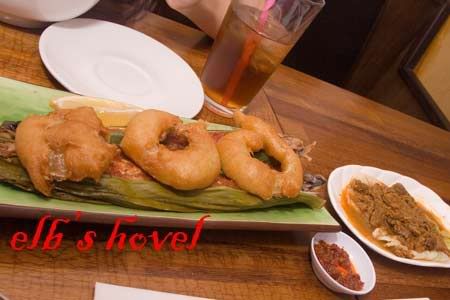 It came topped with onion rings. Beef rendang (approx £8 at right)
At almost £14, forget it. It is not worth paying for! The fish was small and pathetic. It is much better to get the assam fish (either tilapia fillet or pomfert fillet, £9). They only had the tilapia fillet on the day I wanted to order it; and I must say that it is fantastic and highly recommended, but do note that the french beans which come with the dish are too tough.
A comment about the beef rendang, and that is do not bother. Thin slices of beef in a weak sauce. Go elsewhere for your beef rendang fix.
There is one dish that disappointed me throughly, and that is nasi lemak. I ordered it for a friend who had never tried Malaysian food before, thinking that it would come out decent. Wrong. Wrong wrong wrong.
The rice is all wrong. It had a sticky appearance and was too dry. The chicken curry with potatoes was decent but there was too little of it. Like the beef rendang, it was cut too thinly (imagine a few slices of chicken 5mm thick). Worst of all, the nasi lemak
did not come with sambal. It came with XO sauce instead!
Absolutely unforgiveable! I did not kick up a fuss though, because my friend was not familiar with Malaysian food. But I was very very annoyed deep inside.
You.do.not.serve.nasi.lemak.with.XO.sauce.in.place.of.sambal.
It is no excuse. You can purchase sambal oelek from Chinatown nearby if you can't make your own. XO sauce in place of sambal is only permitted if you are a student and have no access to sambal. As a restaurant, it is an absolute NO NO.
For that cardinal sin committed on Malaysian food, I rate Kopitiam 6/10. It is no longer highly recommended.