French Food Adventure
Alright, I thought I'd collate my French food entries into one post. So here goes:
First off is some random French cafe somewhere along Rue de Grenelle.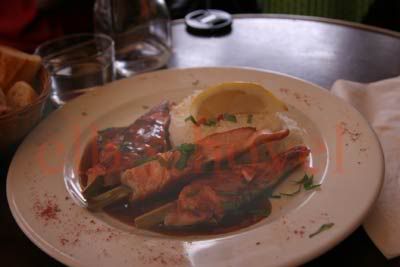 Stick- skewered salmon with reduced balsamic sauce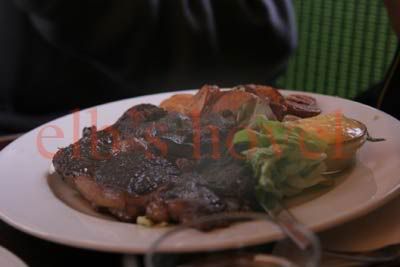 Some steak dish.

We also went to Cafe Dome for dinner at 11pm (!)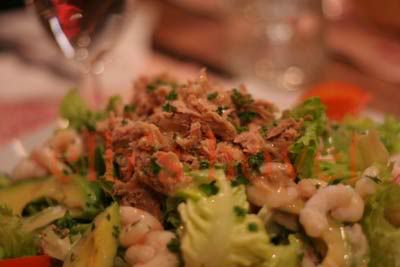 Tuna & shrimp salad with avocado.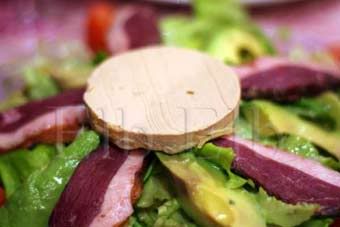 Foie gras salad with smoked duck breast slices and avocado

We also ate at Restaurant Leon, a Belgish restaurant along Champes de Elysees.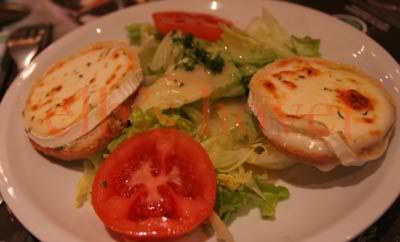 Warm goat's cheese with salad. Would have gone better with cherry tomatoes if you ask me.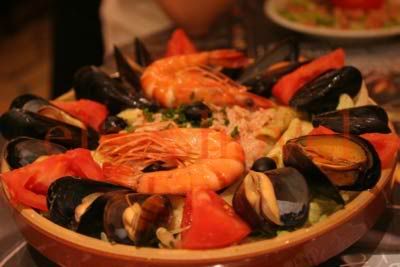 Seafood salad. Two huge prawns, tuna and lots of mussels.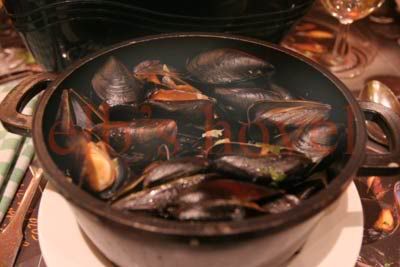 Moules ala Normande, aka mussels in cream sauce. We also had the moules mariniere - mussels cooked in white wine. Heavenly - with free refills of chips too. Love love love - I haven't had this since Brussels a couple of years ago.

As snacks and food to go, I had mostly crepes.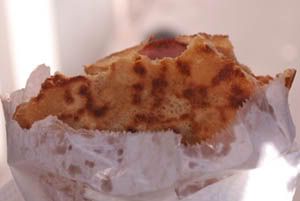 One of the crepes I had. For a step by step guide, visit my entry. On another note, I'm completely sick of crepes now...

On my last day I wandered around Madeleine, trying to look for somewhere posh to eat - I wanted to try some of the real French cuisine that gives it its international reputation. As it turned out, nothing came cheap around the area (Madeleine is the equivalent of Knightsbridge) the main meals were at least €30 each - and that's lunch. Unfortunately, not many places serve lunch at 3pm.

I stumbled across Maison de la Truffe (House of Truffles). As you can imagine from the name, it was pretty posh stuff. The menu was entirely in French and the waiter staff could not speak English. Fortunately I could guess my way through the menu, and I ordered: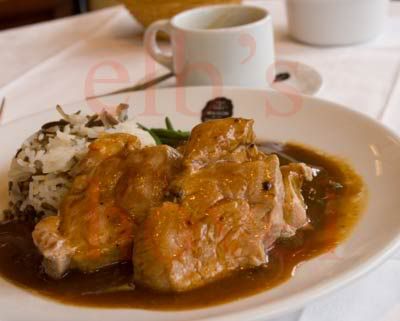 Veal with wild rice and truffle sauce. Divine and cooked to perfection. €35. Should have indulged and gotten some champagne for €10 a glass and enjoy the spring sunshine.

And well some dessert. I bought this from Fauchon, possibly the French equivalent of Harrods or Fortnum & Mason (the food in there went for jaw dropping prices).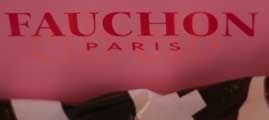 Fauchon.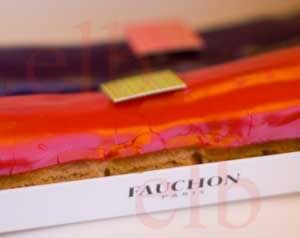 In front: Mandarin orange eclair, fig eclair at rear. €4 per eclair. I can buy 10 at Sainsbury for just over £1.

On another note, I also had some coffee eclair somewhere around Liege, and it was superb - you could taste alcohol oozing out of it. And other stuff as well, including escargot (snails) etc etc.
Update: Eileen just reminded me that I didn't have croissants on my trip! The horror! I guess I completely forgot about it - I ate quite a few on my Benelux trip the previous time and got sick of it (just like I am sick of crepes now).