Four Seasons
It is not altogether uncommon to get confused when your friends ask you, 'Do you want to go to Four Seasons to eat?' for the first time. 'Uhh.. isn't that expensive... the Four Seasons Hotel at Mayfair (that's one posh place)?'
'No lah. Come. Its not THAT expensive'
Next thing you know, you're at Queensway, freshly exited from the Bayswater Tube Station, and you walk for a short while.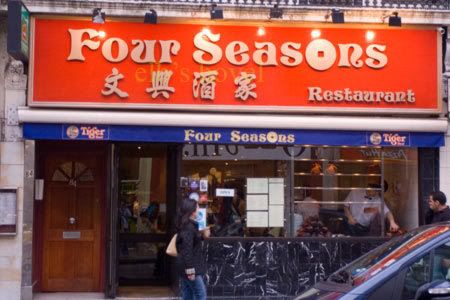 Oh. Potong stim. 文興 (兴)酒家.
Anyway, this place is really popular. There are so many other Chinese restaurants (and bigger ones too) along Queensway, yet many people flock here. Expect long waiting times once the restaurant becomes full, even if you have reservations. And expect to get chased out as quickly as you can eat, unless the restaurant isn't busy (goodness me, the World Cup is on its way, good news indeed!). Not even if you carry LV shopping bags will give you better chances, you need to wait in line *smirks*.
The best times to ensure that you get a table are either if you come early (before 6pm) or late (after 9pm). If you come late though, you might just miss out on the speciality: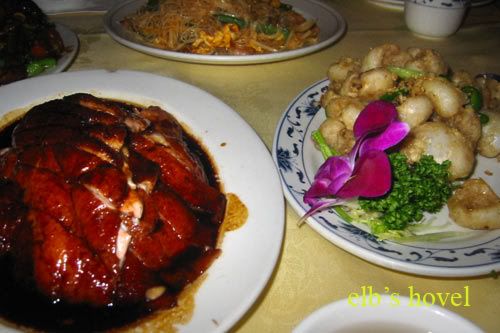 Photograph courtesy of MooPig.

Boneless roast duck with sweet sauce on the left. Absolutely fantastic. Many swear that its the best roast duck in the world. Unfortunately, I know of a certain Teochew-style duck restaurant somewhere in PJ, Malaysia, which is just as good, in my books (although they are of completely different styles). Deep fried octopus on the right, which I found an interesting change from deep fried cuttlefish.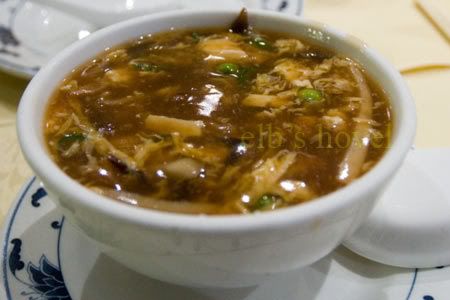 Sichuan soup. The bloody peas in there spoilt the soup! Arghhhh.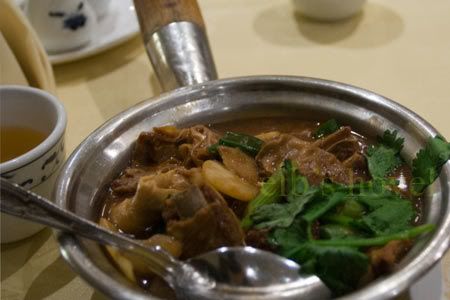 Lamb brisket with dried beancurd, water chestnuts etc. Pretty decent stuff.
As always, don't go there too often (unlike certain people I know!), otherwise the food will just taste normal after a while.
Note: This post is cumulative of many visits, and is representative of my own gastronomical opinions.