My Cheeseboard Selection
Presenting two of the cheese that I had in a recent cheese binge:
So, what have I discovered?
I know now that I don't particularly fancy hard, dry cheese unless they're grated into pasta (i.e. parmesan). Neither do I fancy crumbly cheeses (i.e. certain feta cheese, certain goat cheese), or sourish cheese, nor do I like blue cheese (too salty, but some blue cheese go very well in sandwiches!). Soft cheese are okay, but there are too few of them! Firmer cheese are probably the best of the lot.
Oh, the cheese known as Stinking Bishop (the name comes from a pear - the cheese is washed in fermented Stinking Bishop pear juice) tastes utterly divine! The smell, on the other hand, is too strong for me and gave the palatte an overall pungent feeling. Shame, because it would have been fantastic.....
Anyway, here are two of the more photogenic cheese which I eventually took home: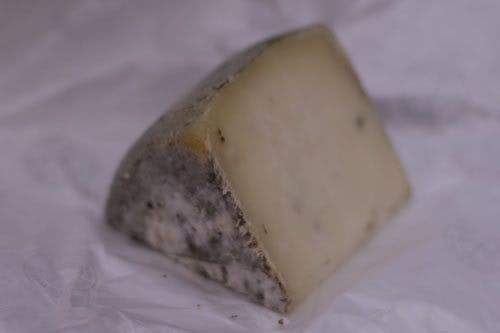 Pecorino Truffle = Pecorino cheese with black truffle pieces. Very nice, earthy flavour. From Italy.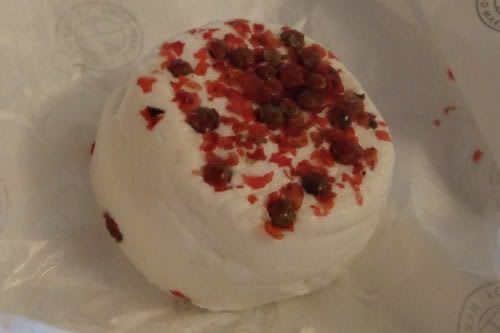 Innes Buttons = Goats cheese, with a mousse texture that melts in the mouth. With crushed pink peppercorn. From England.
Other cheeses that made it to my (makeshift) cheese board:
Le Vully (Switzerland)
Brie de Meaux Donge (France)
Beaufort Chalet D Alpage (France)
Cheeses obtained at both Harvey Nichols and Harrods. Bread (not shown) purchased freshly baked from the French bakery Paul's. Till the next cheese binge (EF! Where are you?!?!).
Labels: cheese binge cheeseboard food