Sichuan Meal
A new Sichuan (四川) restaurant opened recently along Charing Cross Road, just a few doors from Cafe de Hong Kong. I forgot its name It is called Red n' Hot Restaurant. Me and K and F went there to sample some of the delights.
Straight to the food, they offer a wide variety of Sichuan dishes, but no alcohol yet as they are awaiting a license. We ordered three dishes, at a 'not so spicy' level to accommodate F's weaker Shanghainese tastebuds.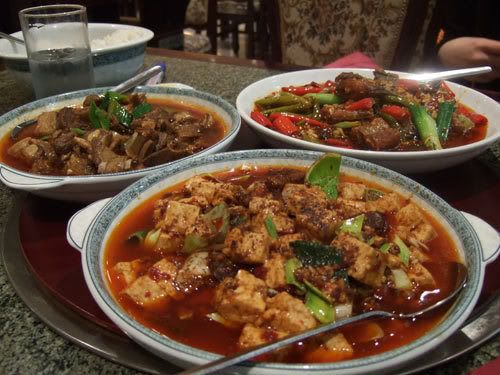 A view of the three dishes, clock wise from bottom: Mapo Toufu (麻婆豆腐) (I give it a 5/10 because I'm never a fan of mapo toufu); Lamb (红烧样), and some fish which I cannot remember.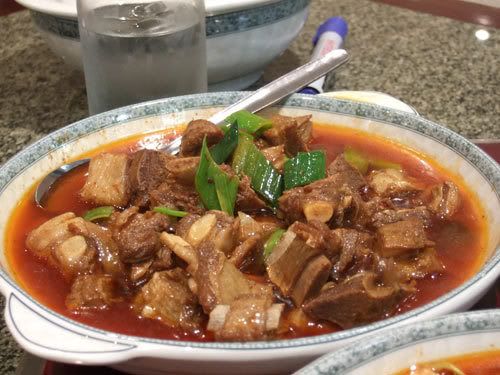 A closer look at the lamb swimming in chilli oil. This really is a reddish-coloured roast (in comparison with the typical soya sauce roast)!! 8/10, really tender.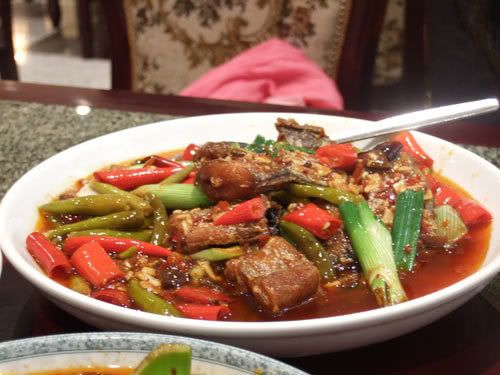 A closer look at the fish, grazing in even more chilli oil. 7/10.
The food was not bad, but it could have been spicier! Then again, as we mentioned earlier, the hotness was toned down. Next time, F, we're going to have it proper!
Update: Expanded review of
Hot and Spicy Restaurant