Iranian Food @ Hatam
Okay, this is
slightly
overdue, but anyway.
Located at the China Court of the Ibn Battuta Mall (which at that time was hosting the Cirque du Soleil's Quidam show, for a mind boggling 800Dhs for the best seats (that's somewhere around £120 for you. In contrast, the Cirque du Soliel's Alegria show in London had the most expensive tickets at less than £60.)), is an Iranian restaurant.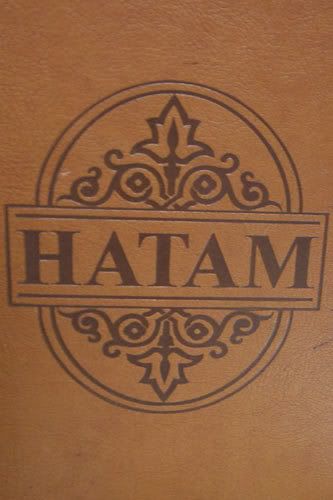 Feeling hungry, I happily took a seat. I called for a lamb dish, as well as a pomegranate juice. I was first of all served what appeared to be a traditional pre-appetizer dish: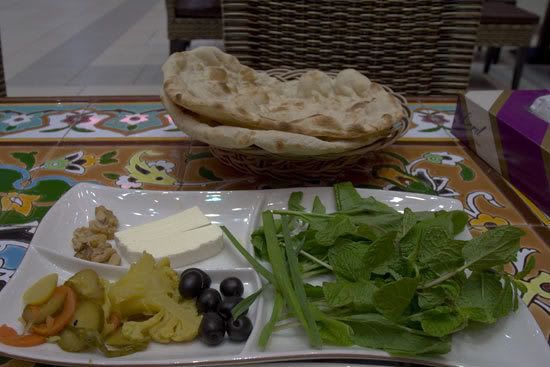 Top left: Cheese and walnuts (starters), Bottom left: Vegetables and olives, Right: Herbs. Above top the bread.

According to my Persian friend, in Iran the herbs would be eaten together with the main meal. No rating for this because I have had no prior knowledge of how to deal with this sort of food!
The pomegranate juice soon arrived. It was delicious, a bit sweet and not astringent, and I give it an 7/10.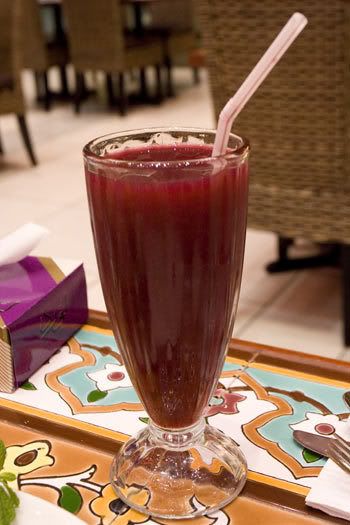 Delicious stuff!
Soon enough, the Baghalah Polo-Ba-Machicheh (leg of lamb cooked in its own juices over slow fire and served with green rice mixed with fresh broad beans).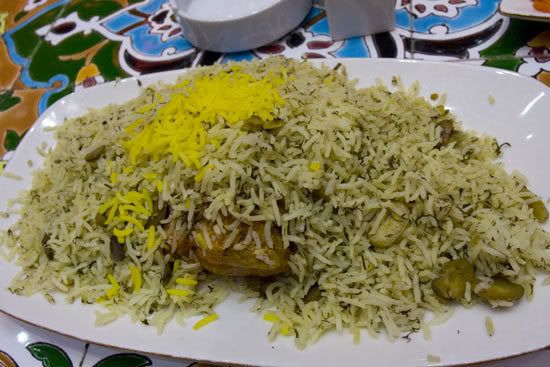 Sounds delicious, but in reality I found this a tad too dry for my liking. 6/10.
The Persian friend believes that this restaurant is part of a very old chain of similar restaurants found in Iran itself. When asked how she would have rated the food (based on her experiences in Iran), she gave it a 3/5.
All in all, if I remember correctly the bill came to around 40Dhs.
Hatam Restaurant (Iranian cuisine)
207 China Court,
Ibn Battuta Mall
Sheikh Zayed Road
Dubai
UAE