Yo! Sushi Visit
LQ and I enjoy sushi very much; we've eaten at Yo! Sushi a couple of times, once whilst shopping for a blouse for her and again after we watched King Kong (where I had to cover the poor dear's eyes to save her from the insects) at another branch conviniently next door to the cinema. Pictures were from the first outing, taken with 50mm 1.8 for the lovely depth of field.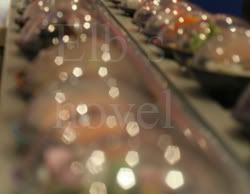 Part of the long procession of sushi on the conveyor belt. As always, just take what you like and return anything you don't fancy, provided its still sanitary (comes very useful when finding the perfect portion of sashimi, I tell you).
Free flow of water/ tea costs £1, and free flow of miso soup goes for £1.50. Warning: The little dishes for you to put on the horseradish (wasabi) and the soy sauce are usually dirty. You might need to pick through the whole stack and wipe them clean before using.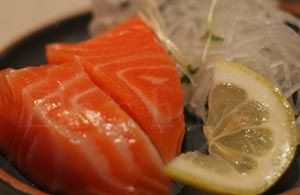 Delicious fatty bits of raw Scottish salmon, sake sashimi. £3 for the plate (colour coded).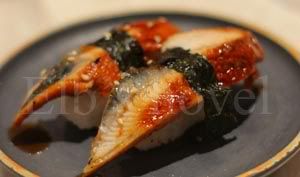 How could a Japanese meal be complete without eel, unagi?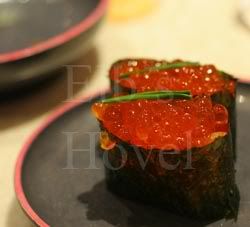 And of course, the sinfully delicious and radioactive looking salmon eggs, ikura.
This is dragon maki, a pressed roll made with deep fried tempura soft shell crabs. It was okay, but the chilli dip thingy it came with was piss.
The problem with places like this is that it is easy to ring up a very high bill (most of the decent & delicious food already costs between £3-£5 per plate) so you can imagine how quickly a decent meal of 6-7 plates add up quickly!
p.s. Yo! Sushi is having a promotion! 10 plates of sushi per person for half price! Except for Selfridges/ Harvey Nichols outlets.