Roast Lamb Rack with Breadcrumb Mixture
Guess what yummy food I cooked recently during the Christmas season?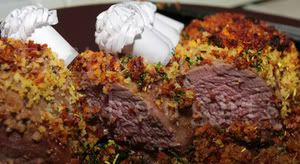 Once its ready and individual chops carved out. Absolutely perfect and medium done. Sorry that you cannot see the pinkness of the meat properly, time and gastric constraints meant I had no time to bother with lighting the lamb properly.
Does anyone want the recipe? My own version, which I created from looking at various other recipes. Nothing outlandish, quite traditional and simple if you ask me.
Lamb rack (I used a piece of Welsh lamb rack approx 350g)
1 tsp crushed black pepper
Salt to taste
8 tsp butter
Breadcrumb from 1 bread
1 tsp rosemary*
1 tsp oregano*
1 tsp parsley*
* If fresh, double amount.
Season rack with black pepper and salt
Melt 4 tsp butter in a pan
Brown both sides of rack lightly
Remove rack from pan
Put onto a roasting pan
Mix rosemary, oregano, parsley, breadcrumb and the remaining 4 tsp of butter (melted) together
Pat the mixture onto the top of the rack
Preheat oven to 230 C
Insert for 15-20 minutes (I did 20, check out the results as above!)
Remove and allow to stand for several minutes
Put on little paper frills on the ends of the ribs for better presentation!
The best part: Cut and serve and eat!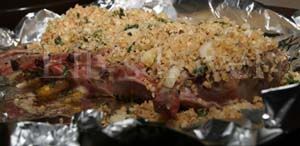 Before it is entered into the oven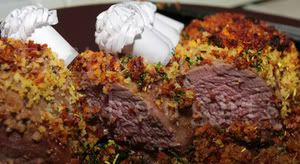 And once again, just to remind you how yummy it was! It was so tender and melt in your mouth. Mmmmmmm I can't wait to make it again, if not for the fact that lamb racks are expensive!