'Beluga caviar sandwich? Meet the Almas caviar sandwich!'
Last month, the (American) media made a fuss about the so-called 'beluga caviar' of sandwiches. Some of you might have heard of it, but for those who haven't, its apparently made like this:
"At about 5 1/2 inches across and 2 1/2 inches thick, the mound of meat is comprised of beef from three continents — American prime beef, Japanese Kobe and Argentine cattle.
The bill for one burger, with garnishing that includes organic greens, exotic mushrooms and tomatoes, comes out to $124.50 with tax and an 18 percent tip included. The restaurant will donate $10 from each sale to the Make-A-Wish Foundation" Source
here
Alas, they blew their trumpet too early.
Selfridges
has been selling an even more expensive burger down here at London. Since the Yankees like to self-proclaim their burger the 'beluga caviar burger', allow me to christen the Selfridges sandwich the 'Almas caviar sandwich'.
If you wonder what Almas caviar is, its the rarest caviar in the world. Not even the beluga caviar comes close, which is probably why the Yankees cluelessly called their burger a 'beluga caviar burger', letting us claim the position of 'Almas caviar sandwich'.
What's in the 'Almas caviar sandwich' then, you might ask.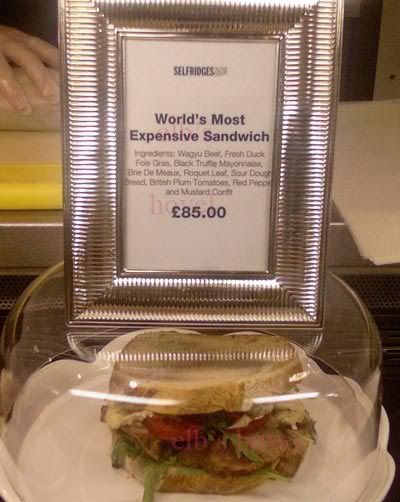 Beat that, foie gras and truffles and wagyu (aka kobe) beef!
Score yet another for the Brits! And yes if you wondering, they've sold over 200 of those beauties over the past two months.