Canon Trilogy
The other day, I met up with some friends who happened to have their Canon dSLR cameras with them (all different models), so we had a little impromptu photoshoot with another friend's Nikon d70: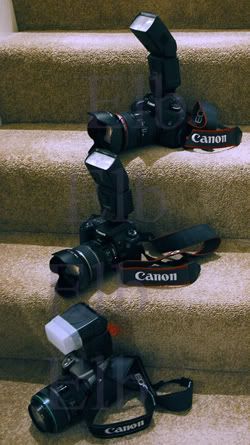 Featuring from top:
Canon 5D with 24-105 f4L and 580EX
Canon 20D with 28-105 f3.5-4.5 and 430EX
Canon 350D with 70-300 f4 DO (yes the DO!) and Nikon SB800 (because the owner forgot to bring his EX speedlight so the d70's flash was borrowed to improve composition (i.e. all 3 cameras with flash))
Unfortunately, we all didn't bring our other lenses, otherwise there'd be around 8 more of them in the shoot!
Also, I spotted the 600mm f4L lense at Calumet Camera nearby Euston: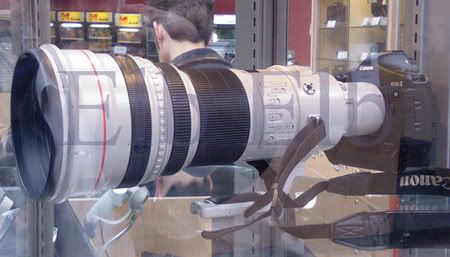 Damn its so bloody HUGE. And expensive!