Gym tour
Let me give you a brief tour of my current gym, located somewhere in London.
After the reception area, we have the lounge and bar area to one corner: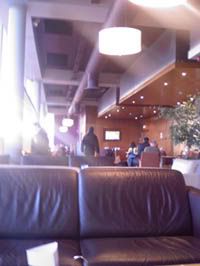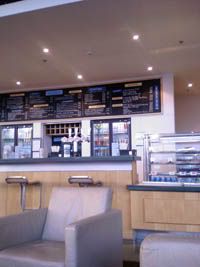 Along the way to the locker rooms, you have the swimming pool, which looks fantastically lit at night. Unfortunately I still haven't quite figured out how to access the pool (basically because I don't swim)...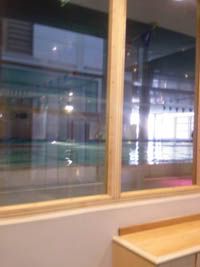 A shot through the windows, with the jacuzzi somewhere at the back left.
The men's locker room: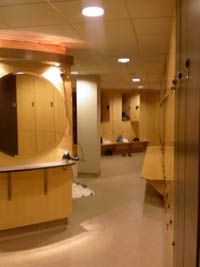 Sorry ladies, there were no naked fit men around at that time...
Some of the cardio machines: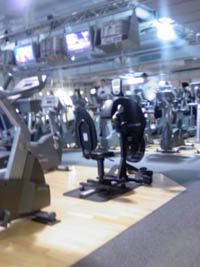 Stepper machines for those who like to climb:
More of the cardio machines: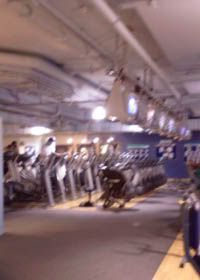 The free weight section of the gym: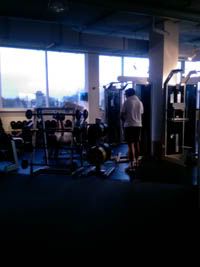 Weight resistance machines are also available naturally: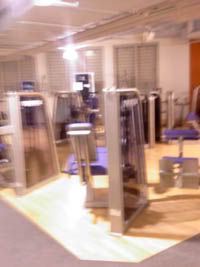 Overall it is very well equipped; you can pay £40 for a session with a personal trainer, a physiotherapist is also available for massages/ acupuncture/ whatnot. Studio classes are also available. But I dislike the way they get people to sign up: you need to make an appointment, they will show you around etc and lay their marketing cards on the table: normal joining fee is £100 but if you join
right now
you get it for free; £50 off peak (enter before 4pm weekdays/after 2pm weekends); £70 (ripoff!!!) full price. As comparison, my old gymoutside of London cost me £16.50 off peak, gym-only and £27 full access, anytime. I also hate the lack of various price packages; I don't do swimming so I don't want to pay for the bloody pool!
And you need to give 3 months notice to quit, which is
quite
absolutely crap. However as it was the nearest gym to home (the one at uni was not open then. It has now, but unfortunately there are problems with long induction queues, people breaking into lockers etc) and I needed to get some exercise after gaining weight during my summer holiday back at Malaysia, so I joined at the end of last year. I know its expensive, but knowing you paid £50 for your gym is a powerful driving force to make you go to the gym (unfortunately I'm usually so busy during weekdays that I leave uni in the evenings :( ).