Flam & Oslo
I know this post is long way overdue, as is the next travel series. Sorry sorry sorry.
After a couple of nights at Bergen, we made our way back to Oslo. We purchased one of the 'Norway in A Nutshell' packages, which involved a train ride between Bergen and Voss, a coach ride between Voss and Gudvangen, a cruise between Gudvangen and Flam, a train ride along the world famous Flam Railway (which is rated among the top 20 train rides in the world), and a train from Myrdal back to Oslo. All within the space of a few hours, because of our tight schedule.
Anyway, I tried this at Bergen: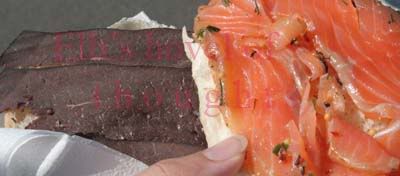 In case you're wondering, that was whale meat on the left, with gravlax on the right. The whale tasted gamey, and the salmon pure enjoyment. Eventhough I forgot to add the mustard and dill sauce which usually goes with it.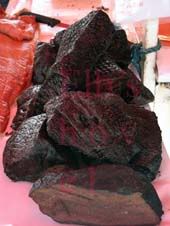 More whale meat.
The coach driver amazed us by managing to navigate the coach around a really steep narrow windy road without needing to reverse.
The cruise was nothing short of amazing. Some of my best pictures were taken on the ride. Here is one of them, you can find a few more at
my DeviantArt site
once I bother to polish and upload them.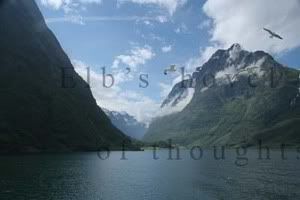 We also spotted two cruise liners at the port of Flam; one of them being the world famous luxury liner Queen Elizabeth II.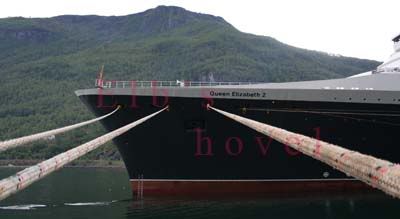 To be honest, the rail journey wasn't very spectacular. Perhaps because we were feeling annoyed because some Chinese tour group took their own sweet time getting there and were late. Or maybe it was because C got herself stuck in between carriages and we were trying to figure out how to free her. Or maybe because it was somehow overrated.
But anyway, we reached Oslo late at night, checked into the hostel, spent the next morning looking around Oslo, then caught the departing flight.