Subnotebook LCD screen crack
A couple of weeks ago, I bought myself a new subnotebook for my academic purposes, a Fujitsu Lifestyle 7011S to replace my old laptop. Its not much, you don't get terribly a lot of features for the price compared with say, Toshiba. However, its solid in comparison; and it has biometric security features inbuilt (that alone is worth the bragging rights) :P
Its great, sitting down at the Ming Tien in Taman Megah and using the free WiFi; but even more exciting is going wardriving with a friend. I don't think there are more innocious activities that can get mixed up with suspicious behavior than wardriving. After all, half the time you spend your time seated in your car and trying to access various networks while the other half is spent circling around neighbourhoods.
But much to my horror, when I opened it two days ago for maintainence, the top right of the LCD was cracked: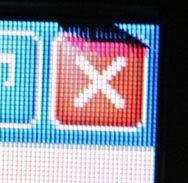 Arghhhhhhhhhhhhhhhhhhhh. Barely three weeks old and hardly used!
My friend told me that she thinks that its a manufacturing defect; sure enough, the store I bought it from told me that I had to go directly to the distributor/ Fujitsu itself. Sigh. I'm leaving this Sunday, and I need it to come with me. Argh! Fingers crossed that they will give me a one-to-one exchange.
UPDATE: They repaired the cracked panel for me, within 24 hours. Very pleased with the service!