Restaurant Hanabi
Situated along Jalan P. Ramlee somewhere in between Nouvo and Modesto's, we chanced upon a Japanese restaurant, Hanabi. We thought of heading down towards Wisma UOA for their buffet (we could see it in the distance and because Hanabi looked kind of posh!), but as it was running late (1.40pm) and because I saw something I really wanted, we decided to stick with Hanabi.

Picture taken of a lighted signage inside the restaurant.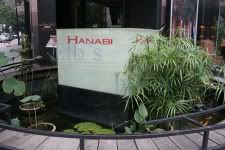 The entrance to the restaurant.
Being lunch time, there were white collar workers and executives in comparison with us, dressed in t-shirts and bermudas. That was not a deterrent though, we slipped into out seats and appreciated the delightful interior.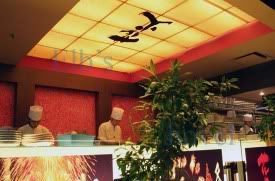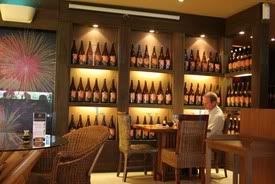 G picked the chicken teriyaki set at RM19, while I ordered what I came for.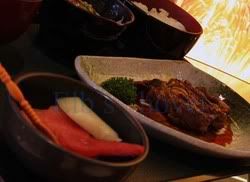 The chicken teriyaki set.
Well worth the money
, G judged.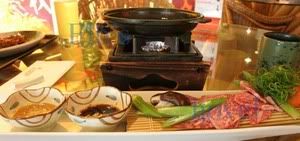 Kobe beef! I've been dying to try that for years! And I like the tea cup too :)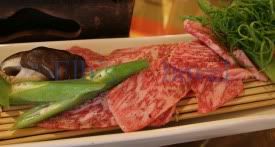 A close up of the beef, all 60g of it, along with some shiitake mushrooms, okra, carrot, pickle, asparagus and spring onions (some of them cropped). Miso sauce and soy sauce on the side for dipping. RM80.
Such delicate beef doesn't need much cooking, just a little bit would do. If you want to have well cooked beef, you might as well go and buy stale beef and cook it.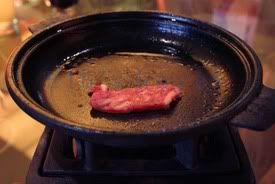 We also ordered ourselves a portion of Ishiyaki garlic rice. It came in two bowls, one of them from heated stone. An egg was cracked into it, and the garlic rice mixed along with it and served by a SYT. A house speciality, but I found it average.
And as an afterthought when last orders were being taken, we ordered steamed gyoza as well.

I can't personally say anything about this because it was my first time trying it. RM10. G said that everything was 'ecstacy' though! We enjoyed ourselves, eating slowly and savouring every bite until they finally chased us out at 3pm. A must go!