Bergen Torget (Fish Market)
One of the things that you simply need to do while you're in Norway is to visit one of the fish markets. Of course, it would be better if you could perhaps visit one of the few places where they still catch wild salmon in the rivers. However, the truth is that a sizeable quantity of salmon in Norway is now farmed, with up to a fifth of it produced around Bergen.
Fish wasn't the only thing sold here, there were skinned reindeer and seal rugs, as well as various souvenirs and clothes, both traditional and commercial.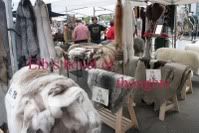 Rugs, rugs, rugs aplenty!

The highlight of the torget: salmon, in various forms and sizes!
Not only salmon, but also some exotic fish too:
And tons of fish roe:
I bought one of these sandwiches from this young lass. It cost NOK70 (or GBP7, or RM50). Norway is bloody expensive!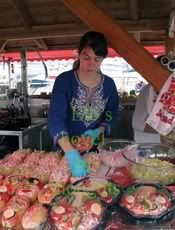 At least the sandwich was large....
There were also some interesting people, including this mate, who can be seen handling my packet of smoked wild Norwegian salmon.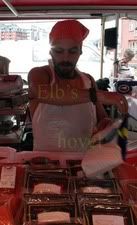 I think he looks more at home on board the Jolly Roger than sealing my fish inside a thermal bag ;)