I caught an SLR on my SLR!
Yes, I did! And no, its not a picture of an SLR camera taking the picture of an SLR camera. Which can only mean one thing... the McLaren SLR. This beauty of a beast was captured by me, on film, at Brompton. I was walking along Brompton Road, looking around as I crossed some junctions, when I caught what I thought was a Chrysler 412 ME, for some reason. Upon closer look, holy catamoly!
Whilst I was lining up my first shot, the owner and her friend returned. That's right, two ladies turned up. Urgh. Its difficult to be discreet with a SLR camera, hence I had to quickly alter manual settings rather crappily. Not to mention fighting the distraction as the scissors doors came floating up.
The first two pictures were taken with me forgetting to change the colour balance from tungsten - and I did not have the pictures on RAW. However, manipulation of the primary colours on PS restores some of its grey splendour: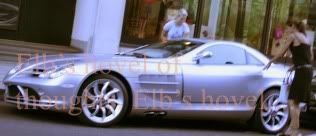 The owner and her pal returning from a hard day's shopping.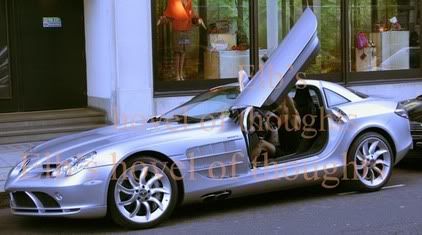 Omg scissors doors! Also note that the exhausts are by the side, a foot or so behind the front wheels
From here I decided to shoot from my hip, a technique I've been trying to practice to snap shots that are discreet/ to prevent yourself from looking like a jakun. The lady driver was pathetic, a Merc behind her stopped to give way to the SLR that was pulling out from the side parking bay. She moved out a foot but hesitated, so the Merc just overtook. Definitely the boyfriend's/ husband's car (as if it wasn't obvious earlier on). I bet the Merc driver had a smug look on his face as he did that, hehheh.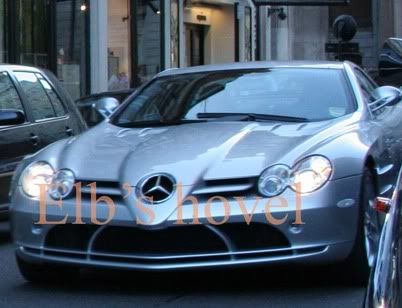 It managed to wiggle out. Notice that there is no (noticable?) number plate on front.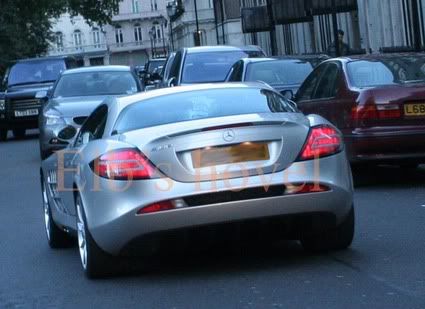 Rear shot as it drove by.
And since I'm so nice, here's a shot of a Ferrari 430 (update: confirmed to be a F430, thanks buttsh4k3r) that I captured just a couple of hours later:

The latest Ferrari model. Number plate '4'. Hip shot.
P.S. I apologize for marking the pictures heavier than usual. These are rare pictures, in my opinion. If you don't like it, too bad, come take your own.