Feskekorka (Fish Church)
One of the first things that we did in Gothenburg City was to seek out the Fish Church. Unfortunately, it wasn't what I had in mind. I was imagining a stone Gothic cathedral which housed a fish market instead of pews. Bah. Was I so wrong.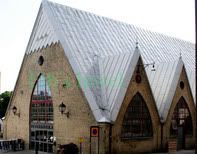 Please forgive the wrong metering setting.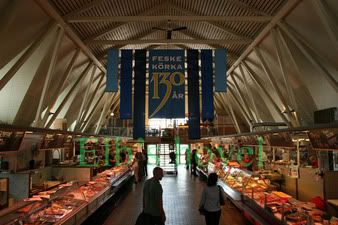 The airy interior.
They sold all kinds of fish there; I took a few pictures as usual. The tuna is amazing though. It looked so absolutely fresh that if I had some soy sauce and wasabi I'd have bought some there and then.
It would have been almost a waste of time except for a small stall which was selling various types of (cheap) fish roe. I purchased a small plastic jar of 'supreme caviar' - some fish roe with garlic, dill, and mayonaisse/ oil based spread. It went superbly with cinnamon buns.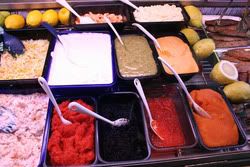 The supreme caviar can be seen to the right of the huge tub with white stuff.