Carlsberg Brewery
The next day after suffering in the strangely warm room of ours and having excellent wienerpastry for breakfast (that's Danish pastry for you), we set out in search of the Carlsberg brewery. It included a walk past Copenhagen's red light district, and past a cafe called Restaurant Spunk.
No way I'm eating there.
After a while, we had a feeling that we were lost, so we asked a local for help. He pointed us in the opposite direction. Great.
Skeptical, I found a postman on his rounds nearby. He gave us directions to the brewery (we were going the right way, only it was much much further than thought), after making sure that we were not after the Carlsberg Art Centre (Carlsberg contributes heavily into art, culture, and science; something they still do to this day).
The brewery compound was huge, it took us over half an hour to reach the visitor's centre after passing through the 'main entrance'. Okay, mainly cause we were busy walking slowly and taking pictures, but hey.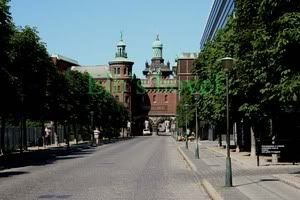 The arch at the brewery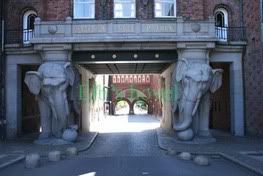 The Carlsberg elephants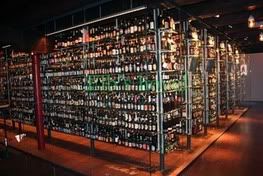 A huge collection of beer from all over the world
Nothing much to say, tons of videos and all that, exhibitions, facts and figures (apparently they sell like a few thousand bottles per second!), bla bla bla.
At the end, we traded in 2 of our Carlsberg drink cards (we had a total of 6 between us) for a sample of 4 of the company's drinks. They were of the Jacobsen label.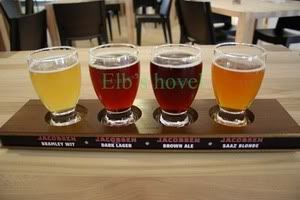 From left to right: Bramley Wit, Dark Lager, Brown Ale, Saaz Blonde
Verdict? Like most commercial beers, the beers were... flat.
p.s. If someone could enlighten me on the differences between Carlsberg, Tuborg and Jacobsen, it would be much appreciated!