Around Copenhagen/ Restaurant Parnas
Amongst some of the other things to see in Copenhagen:
The Marble Church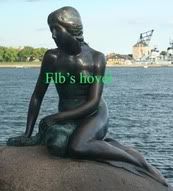 The Little Mermaid (overrated piece of trash if you ask me)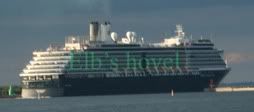 Forget looking out for sports cars, look out for huge ass ocean liners!
By the time dinner came, we looked out for some food (at 9pm!). Most of the restaurants around the docks were expensive touristy junk, which we passed. Eventually we came across the Globe Restaurant.
We had two appetizers: one consisting of a platter of herrings marinated in three styles. The usual sugar/ dill marinade, tomato-ish marinade, and mustard based marinade. Not too bad. The second French onion soup. Too salty though.
The main meals:
Fried wild boar in sauce with potatoes and vegetable sides. A bit tough, but I suppose that is to be expected with game meat.
Fried potatoes and something else topped with fried eggs. Okay lah.
But the dish of the day was:
Look at that! Goodness gracious all that pork belly deep fried until no moisture is left! A whole bloody crackling! And no sauce! We all gave some of our food sympathetically; luckily the French onion soup was consumed before. We blamed it on the chef, who wanted to close down the restaurant for the night (it was like around 10pm then), although it most probably had to do with the fact that it was cheap (the boar costs twice the amount).
Update
: I got the restaurant's name wrong. Erk. Its not Restaurant Globe (we ate there for a different meal), but Restaurant Parnas. Apologies for any confusion.