Trekking along Jalan Sultan Ismail
Arguably one of the busiest and longest roads in KL city centre (and not to mention one of the weirdest traffic flow systems around. [Traffic goes in two one way routes from either end, meeting around the middle at Jalan P. Ramlee, and you need to swap between the left and right sides of either side to get to a building across the road]) is Jalan (Jln) Sultan Ismail (SI). It is guarded by Jln Imbi and Jln Kuching on either ends, with other important roads like Jln Bukit Bintang, Jln P. Ramlee, Jln Ampang and Jln Raja Chulan. KLzens should know what I'm on about.
We decided to transverse the entire length of it on foot, to see what photographs we could capture, and basically to take a closer look at the typical life in the Golden Triangle. Because let's face it, on the road you'd never really bother, or have the time to take a closer look around, especially with the difficulty finding reasonably priced car parking facilities.
The starting point was Berjaya Times Square (BTS), parking RM4 total. I spent a fortune there later in the day buying several books from Borders, and a
worthless lameass DVD boxset
. The goal was to walk all the way until the Shangri-La hotel at the Jln Kuching end and return, either by monorail or by foot.
It started off alright, I almost got knocked by a taxi at the Jln SI/ Jln Imbi junction while I was standing in the middle of the road (the traffic lights were supposed to be red, but the damn taxi came anyway) finding an angle to take a picture of BTS.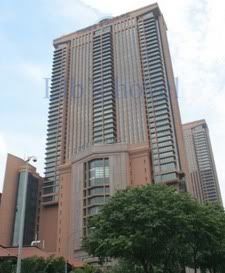 It was a process I repeated a couple more times as I stood in the middle of Jln Raja Chulan, trying to take a decent shot of the Standard & Chartered building: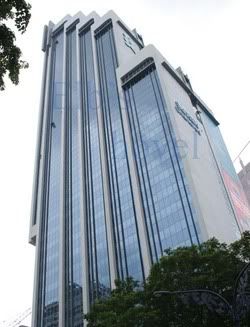 I love the architecture on this building!
More pictures: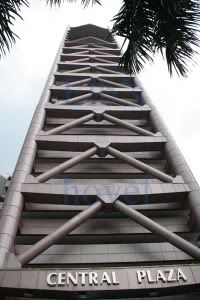 Central Plaza, frontal shot. I need to work more on getting a good center.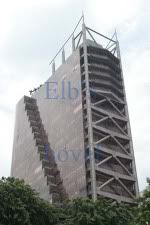 Central Plaza, diagonal shot. Looking more familiar this time?
We popped by for lunch along Jln P. Ramlee. Review coming up!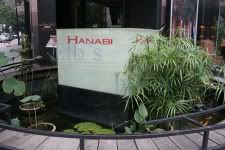 The Restaurant Hanabi
Oh by the way, if you look along the middle of the road where the monorail is, you'll see a very, very long advertisement courtesy of Malaysia Airlines.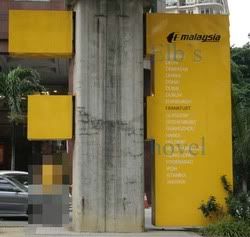 Can you decipher it? This is just one out of 26 similar adverts.....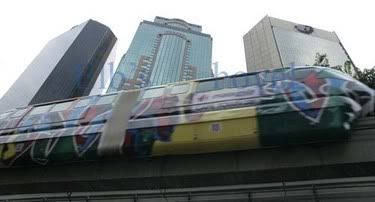 Monorail passing through!
Also, this signboard outside HardRock Cafe tickled me:
No Kapchais allowed! Only Harleys etc etc ;)
We turned back and headed towards Bukit Bintang after we reached the Elevated Expressway as the sky didn't look very forgiving, grabbing some expatriate priced ice-blended stuff from Gloria Jeans @ P.Ramlee along the way.