Taking the Caucasians to lunch
A couple of months ago, I brought a few friends along with me for lunch at an Oriental buffet restaurant. There was Matthew, who works as an engineer in the neighbouring city; there was Gary, who works as a city planner with the local council; there was Tina, who gets married next weekend (why is everyone getting married????); there was Vicky, who works as a nurse; there was Urenna, who is currently reading pharmacy, and Nana, her coursemate. And of course there was me.
It was basically a choice between two Asian buffet restaurants: Feast and the Oriental Pearl (OP). Having eaten at both before, I recommended Feast, mainly because Feast dealt with Asian cuisine as opposed with OP's Chinese focus. And it was a lot less oilier and salty. Hint: Cheap buffet restaurants use plenty of oil and salt to make you full faster.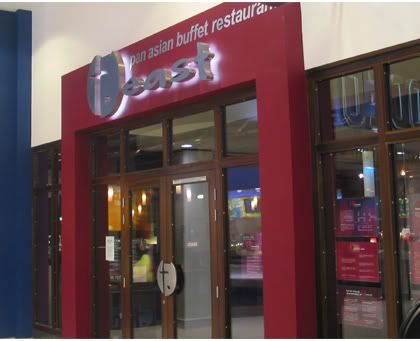 The waiting area of Feast is remniscient of Sudanese architecture, and wood dominates the interior. Seating is on both typical Western seating as well as long wooden tables with long wooden benches, quite like banquet tables. Or rather, Malaysian canteen tables, if you can't picture.
The rear has three long tables; the left and the right have the starters and the main course, while the desserts occupy the center.
The food selection? Over 80 types of food. For lunch, around 30-40 of it is presented and rotated every day to ensure that there would be something for everyone.
We ordered our drinks and the ladies went to grab their round. Then it was time for the men to get rocking, and we walked around plates in hand and I pointed out to them some of the items which I was familiar with.
Then my eyes spotted in a tiny corner: BEEF RENDANG. The gastronomic floodgates were opened. All the rest of the food, the duck in orange sauce, the tomyam soup, the sweet and sour chicken, the fried wan tans instantly became oblivious. And it was good. The flesh was so tender and melt in your mouth. It was a hit with the rest of my friends who tried it out, although they were busy trying out other samples as well. My only complaint was that it was not hot enough; there was spiciness all right, but no hotness. Typical dumbed down food.
After some tea at the end of it, most of them had mentioned that they had enjoyed the meal. Whether or not they had really meant it, or said it because there was an Asian with them, I have no real clue. But Vicky did mention that she would definitely be back, so I suppose that it is safe to go with the former :)
This post was inspired by MrKiasu's entry here:
http://www.mrkiasu.com/main/2005/05/restaurantinsin.html#more