Shoes
Just the other day I was searching for a suitable pair of shoes to attend a wedding in (sigh I'm growing old), when I realised that all my pairs of shoes were grouped together. So why not, take an impromptu picture: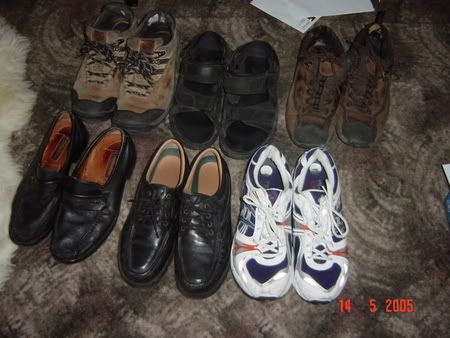 They are from top left, clockwise:
Timberland shoes which I usually wear;
Clark's All Terrain Leisure sandals which I use indoors (and very comfy, I might add);
Clark's SuperLite GoreTex shoes (no longer used);
Asics Gel Kayano running shoes (second latest model) for use at the gym;
Blake's semi-formal laced shoes;
and a pair of Valentino loafers, of which the soles are made from wood, giving it a very noticable click when I walk. Unfortunately this needs some padding added because the bottoms of my feet were sore when I wore it to the wedding.
Which made me realise: I don't have a good pair of walking shoes to compliment all the walking I've been doing, and plan to do over the next couple of months! Argh!