Krispy Kreme II
How could most people not go to Harrods and not resist the urge for a Krispy Kreme?
The sole reason why some people visit Harrods, as admitted by a friend of mine recently - "'I parked my car at Harrods and went in just to specially get my box of Krispy Kreme'
For me, an excuse to feed my starving tummy after a long 7 hours of browsing through the British Museum of Science & Technology.
So there I was, going through the food halls, and I saw that neon logo on the wall was lit - they're making fresh hot doughnuts! And the conveyor belt - yes, conveyor belt, they make that many - was churning doughnuts that were floating in the oil (that gives you an idea as to how healthy doughnuts really are).
We were given a free doughnut to try out, and I bought a couple more.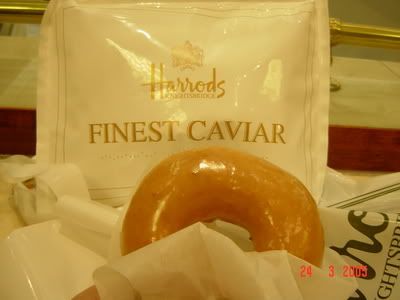 A picture of the fresh yummy doughnut (compared with the cooled down versions
here
).