Sangria
'Blood' in Spanish, this punch consists of red wine mixed with fruit juices, soda water and fruit. The version I had came with orange juice and had little pieces of lemon and lime floating in it, as can be seen below.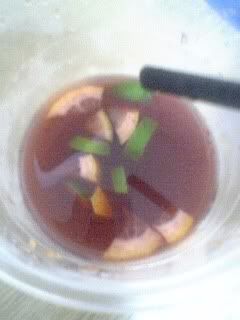 Not particularly strong, but as I don't drink regularly some of it was enough to make me feel sleepy and lose some focus as I drove. I think I prefer the non-alcoholic version better, but it reminds me of some expensive fruit punch. Yes I know, it looks cheap, but only because I took the picture after taking away in a plastic cup the remainder of what was left. It is however, better than the sangria that I had in a bar in Luxembourg.
Obtained at: Basque Lane Restaurant, Mont Kiara.
p.s. apologies for the lousy pic, was taken using my camera phone as my digicam is currently MIA.