Baklava
A couple of days ago, I bought some pieces of dessert from the pastry counter of one of the supermarkets here. It was surprisingly heavier than what I had anticipated, and that meant I had to pay more (it was being sold according to weight).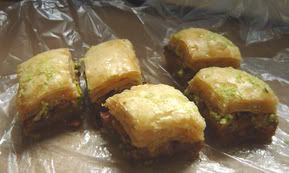 There were actually six pieces. Sorry, I couldn't resist.
At any rate, I have difficulties pinpointing the exact origins of this yummy pastry: it probably originated in the Balkans or in ancient Russia, judging by its name. Looking it up gives me contradicting answers; some people claim that its a Turkish creation while others insist that its Balkan. Who cares? Let's eat!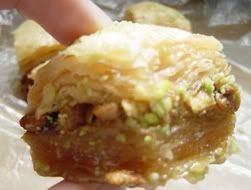 It consists of basically three layers: The filling at the middle, and layers of filo pastry on the top and bottom. The base is then soaked in honey or syrup or something similar. This particular baklava was made using pistachio filling; some recipes call for walnuts, while rose water syrup (no, not your Rose cordial like back in Malaysia) was used. It was also dusted with some pistachio powder, I believe, looking at the green stuff scattered all around.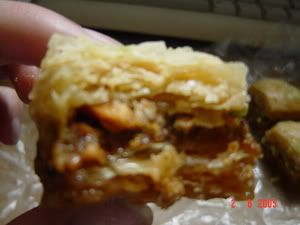 Burp! (sorry about the skewed focus, I was enjoying myself ;) )
Its good stuff, if not too sweet.