Porterhouse (Gastro)Pub
Looking for a place to eat, we chanced upon this 4- storied place not too far from Trinity College, on the edge of Temple Bar. It appeared cosy and casual, with separate sections (i.e. by the bar, sports section to view projected rugby matches, etc.). We sat down, took a quick glance at their extensive world beer list, and ordered. Much to our surprise, they didn't carry Guinness, but only their housebrew stout (and a few others).
So upon closer examination of their housebrew, and alas unfortunately after we had ordered our beers, we noticed a most interesting brew: Oyster Stout. Porterhouse describes it as "Brewed with fresh oysters. A smooth drinking aromatic stout with a discernable but unidentifiable aromatic aspect. Not suitable for vegetarians." We didn't order it, but I am sure many of you would like to give it a shot if you are in Dublin/ London (there is a Porterhouse Bar in Covent Garden).
A sample tray of all their brews (Oyster Stout, Brain Blasta, Chiller, Plain Porter, Temple Brau, TSB, Wrasslers XXX, Hersbucker, Porterhouse Red, Weiss, and seasonal specials) is also available for €5.
As mentioned earlier, Porterhouse also stocks a wide range of proper beers from all around the world. Commercial beers such as Foster's, Heineken BUL, Guinness, Budweiser (American version), etc are off course absent. Interestingly, Tiger beer makes an appearance under the guise of 'Singaporean beer'.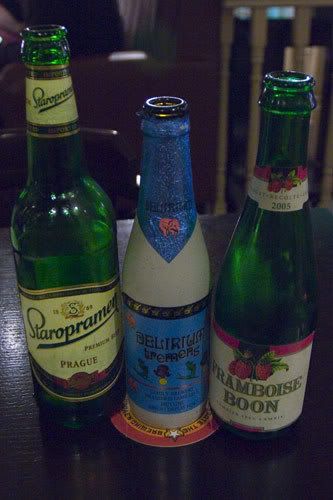 L-R: Czech Staropramen, cutely labelled Belgian Delerium Tremens, Belgian Framboise Boon.

On to the food. I called for: Irish Stout Stew (if I remember, they used their own Wrasslers 4X Stout). This dish was fantastic: absolutely flavourful, the beef was tender, and all the other ticks in right places. Gorgeous. If there was nobody around, I would be tempted to use my fingers to pick the bowl clean. 8.5/10. €13(?)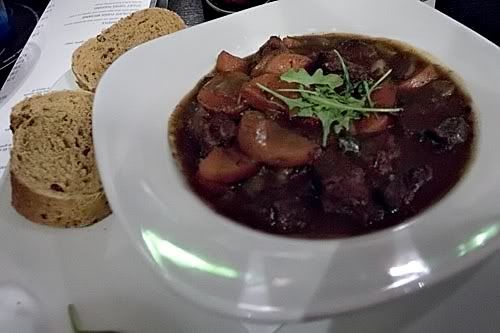 EF called for a traditional Irish lamb stew with pearl barley. No rating as I cannot remember how this dish tasted like, but I think it would be somewhere in the region of a 6/10. €13(?)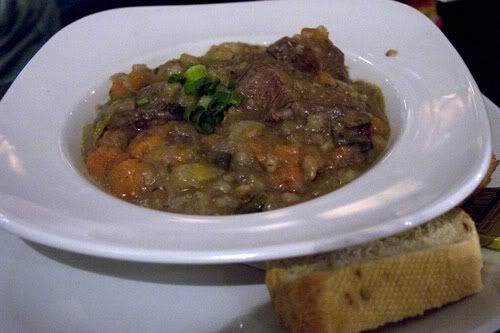 C called for a burger. No rating from me. €11(?)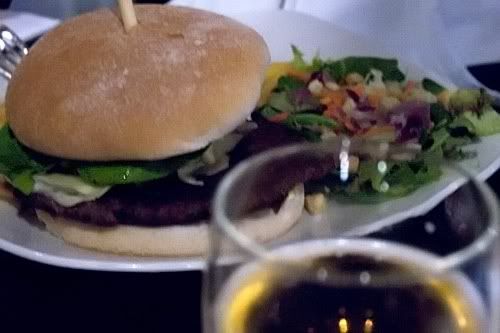 Porterhouse (The)
16-18 Parliament Street
Temple Bar,
Dublin
Ireland
Labels: food porterhouse ireland