MPH '05 Show (Part 1)
We went to visit the MPH'05 a visit over the weekend. It was held at Earl's Court Exhibition Centre; we arrived there and made a beeline for the performance. It was being hosted by none other than Jeremy Clarkson, Richard Hammond (both of Top Gear fame), as well as Tiff Needell (Fifth Gear; formerly Top Gear as well).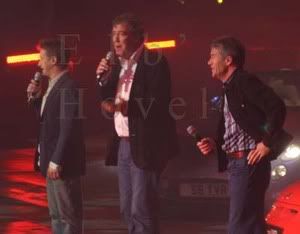 The trio, after making an entrance in a Vauxhall Monaro, TVR Tuscan, and Honda NSX respectively.
We were treated with some awesome demonstrations throughout the show, which were interspersed with some car parades (and getting to hear the revs of some of these babies).
There were doughnuts, front wheel burnouts, drifting 350Zs, and so on: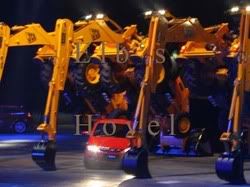 Pinpoint accuracy needed for this maneouvre considering the high entry speed!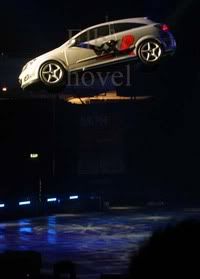 The Vauxhall VXR is bloody flying! With someone inside! To my best knowledge no swap was done as the car was just involved in the tractor weaving a minute earlier! Jeremy himself said that no cables were used and that Vauxhall had really built a 'flying car'. Hmm...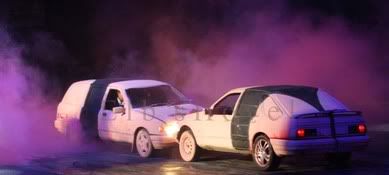 What do you do with old cars? Car sumo, of course!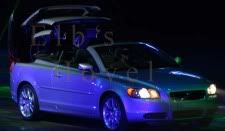 The new Volvo C70's hard roof retracts with style. And it does so pretty quickly too!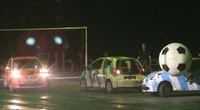 Car football! 3 vs 3. With plenty of scrapes and dents as the aftermath.
The new Jaguar was also launched at the show.
Also worth mentioning was a sequence where a Lotus Exige dodged an army helicopter (remake of a similar TopGear experiment) successfully. For safety and physical space limitations however, a huge 3D Apache (complete with cheap flimsy 3D shades) was simulated using the actual military targetting software in the Apache (or so they told us) was used in lieu of the real deal. But it was still sweet nonetheless, with huge flames ripping off in place of real missiles.
However the car was too bloody fast and too agile for my camera to get a decent picture in the poor lighting, but here you go: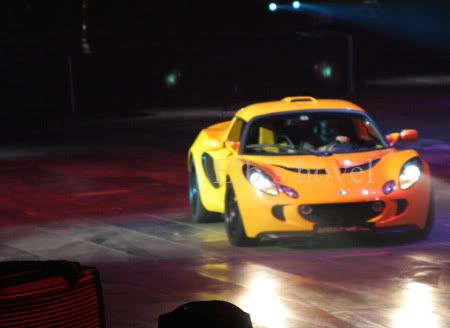 Presenting the Exige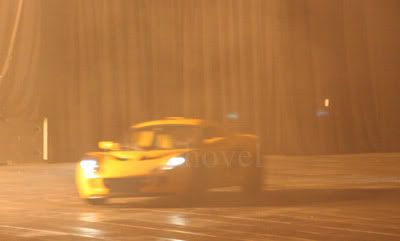 All the smoke from the live bursts of flame and burnt rubber.