Yaki Maki Restaurant
I went with a couple of friends to this restaurant earlier. One of the first things we saw was a Japanese family eating there, so we felt that we couldn't go very wrong.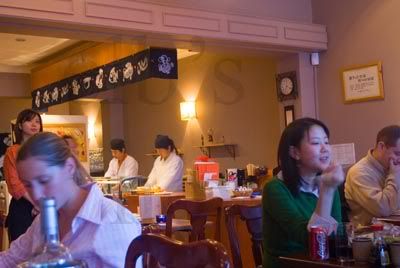 The interior decor with some nice scenery to ogle at.

The menu was pretty good, with plenty of options to choose from especially the maki on offer. Our tea arrived tasting of sesame and was rather weakly brewed. The salad which we served was fantastic on the other hand; and the miso soup was about right.

The starters arrived quickly, which surprised us a little because the restaurant was rather busy. The soft shelled crab was good; the prawn tempura was a delight - light and crisp - however we did not get any grated radish along with it.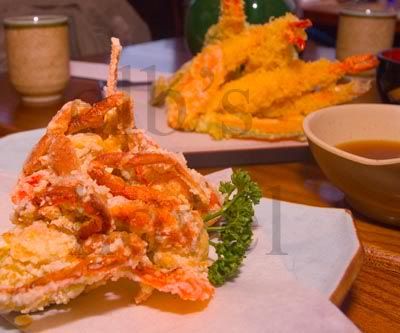 Soft shell crab and probably one of the best tempuras I've had in a long while!

The maki that we ordered were good as well. However we noticed something about the rice used - it tasted more like long grain rice, and it was of a dry consistency rather than the stickiness we would have expected. Never the less it was still good.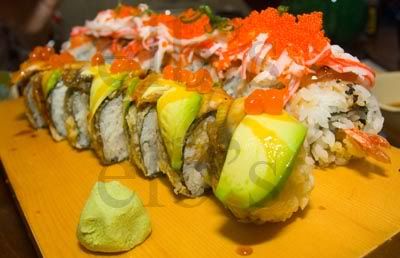 The maki rolls. Eel + avocado + salmon eggs on top of a fried California roll* with fried fish inside (if I remember correctly) at left. On the right is ebi filled California rolls with tuna and salmon on top, along with mock crabsticks and flying fish roe.

After the sumptious starters and maki rolls, we were expecting our main dishes to outshine - salmon teriyaki, beef bulgogi (that's Korean not Japanese) and tofu. We were let down however.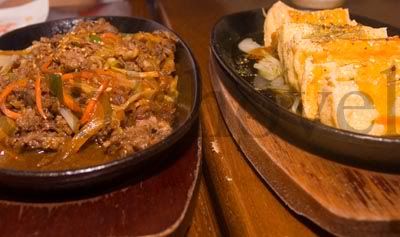 Bulgogi (left) and Japanese tofu (right)

The pathetic salmon teriyaki.
*In Malaysia, California rolls refer to what the Brits call a 'hand roll'. California rolls here are what you see in the third picture.
Overall: Only go here for the maki rolls and other dishes besides the main dishes. Stay away from most of the main dishes.
Cost? £75 total.
Yaki Maki can be found at South Wimbledon.
Address: 148 Merton Road, South Wimbledon SW19.