(Very) Exotic Taglietti
I made myself a rather fancy dinner using some exotic ingredients: sea urchin, and escargots (that's snails for you who are not familiar with gastronomy terms or French.)
The components?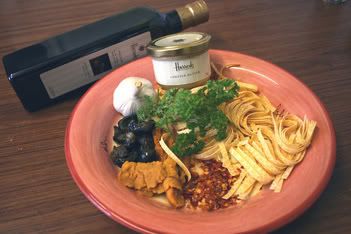 Ta-dah!
Includes (clockwise): lobster butter (top of plate), taglietti, chilli flakes, sea urchin, escargots, garlic, fresh parsley (centre) and a bottle of extra virgin olive oil.
For a bigger picture, please visit my
deviantart site
. Friendly reminder: PICTURES ARE COPYRIGHTED BY ME.
Macro shots and a bit more in-depth description of selected components will be dealt with later on in subsequent posts.
The final outcome?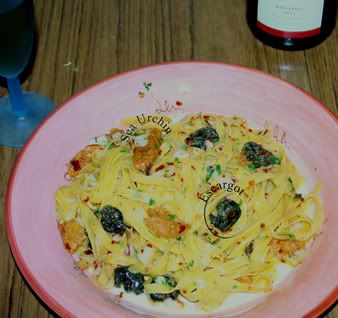 Okay I know the lighting of the picture (or rather the overall picture) here is very crap and unprofessional compared with the last. I was too hungry.... But it was really nothing more than to point out the exotic stuff.
That's right. No tomatoes or cream. The olive oil and garlic and chilli were sufficient to lend some flavour and body; the delicate flavours of the sea urchin and escargot were allowed to shine through this way.
The taste? Both the sea urchins and escargots are delicate pieces of food, and are yummy on their own. Perhaps it wasn't really necessary to combine both into one dish, but to create separate dishes, especially with the lobster butter taken into account. But then again, you have restaurants combining tiger prawns and scallops and goodness knows what else.